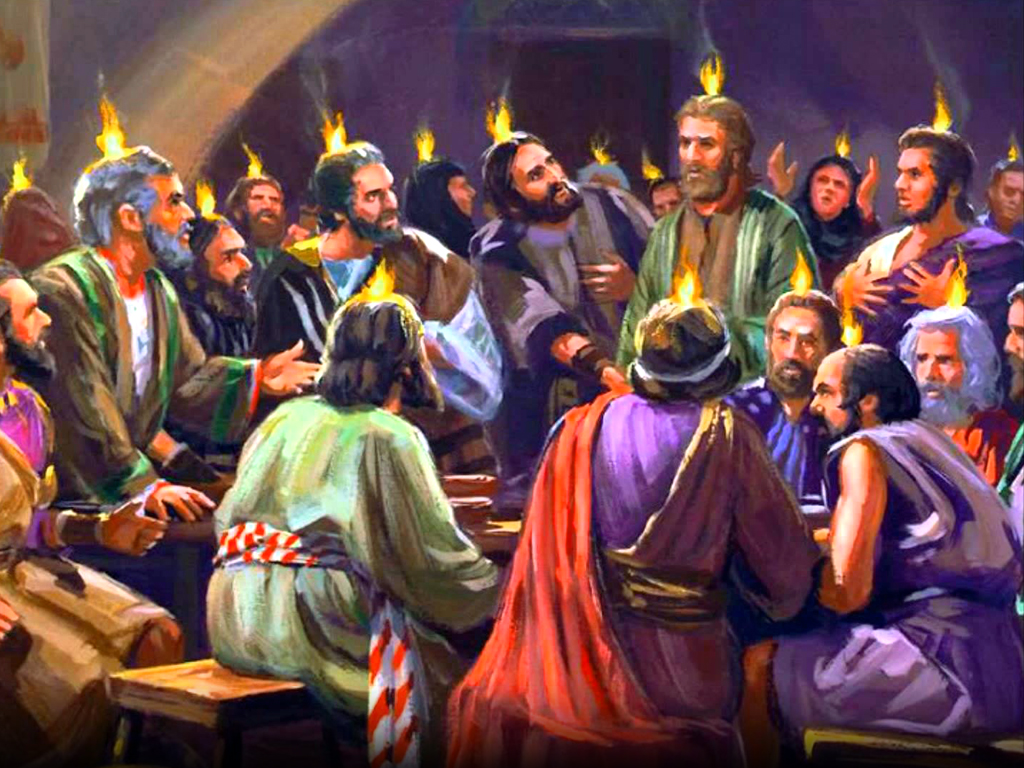 Mass Schedule
Saturdays
5:00pm – English Vigil Mass
Sundays
8:00am – English Mass
10:00am – English Mass
12:30pm – Spanish Mass
Weekdays
Tue-Fri: 12:15pm – English Mass
Wed: 6:30pm – Spanish Mass
Adoration
1st Saturday of the Month from
4:00-4:45 pm; Fridays from 11:00 am
to 3:00 pm, followed by Divine Mercy Chaplet
Gospel for Pentecost Sunday, May 28
On the evening of that first day of the week,
when the doors were locked, where the disciples were,
for fear of the Jews,
Jesus came and stood in their midst
and said to them, "Peace be with you."
When he had said this, he showed them his hands and his side.
The disciples rejoiced when they saw the Lord.
Jesus said to them again, "Peace be with you.
As the Father has sent me, so I send you."
And when he had said this, he breathed on them and said to them,
"Receive the Holy Spirit.
Whose sins you forgive are forgiven them,
and whose sins you retain are retained."
.

Current Events
---
Words from Fabio

Several weeks ago, I received a call from the bishop, who told me: "Fabio I have called you because I need you, the Archdiocese needs you in such parish, that community needs you, in addition to the fact that you already have many years in Saint Paul." To be honest, I was mute at the time, I did not know what to say, I felt as if the world was ending, what a strange feeling ran through my body. After a brief conversation, the call ended, and I was in shock. The next day, I made an appointment to talk to him about the matter. There were many things we talked about, but I want to highlight some of them, because you have been and will be very important in that decision…

For further information on Father's thoughts on staying another year with us, and for projects he would like to complete, please click on Weekly Bulletin above, and then on Bulletin Insert 5-21-23.

Italian Spaghetti Supper

Your support will help our teens participating in the Life
Teen Steubenville Atlanta Conference in July!

Saturday, June 10, 2023
6:00 pm
St. Paul Parish Hall
Spaghetti and House Made Sauce*
Meatballs & Sausages
Freshly Tossed Salad
Crusty Italian Bread
Iced Tea and Coffee
Assorted Desserts

*Ask us about our gluten-free options!
Tickets: Purchase after the Saturday and Sunday Masses, or by contacting Mary
Ruth Jones, 706-892-4438, maryruthjones8@gmail.com
$10 adults
$5 children 7 & under

School of Religion Registration Happening Now!

ONLY 2 MORE WEEKENDS REMAINING TO REGISTER FOR
NEXT YEAR'S SCHOOL OF RELIGION!


July 29 and 30 after all Masses
Aug. 5 and 6 after all Masses
August 6th will be the Last day to Register for Classes!
$60 per family
$40 extra for sacramental prep classes.
THERE WILL BE NO LATE REGISTRATIONS

We must order materials and organize catechists before classes begin in September.
More Info
---
Confessions
Saturdays, 4:00pm or by appointment
---
Secure Online Giving
---
Daily Readings
---
Catholic Online
Catholic.net
Vatican
Archdiocese of Atlanta