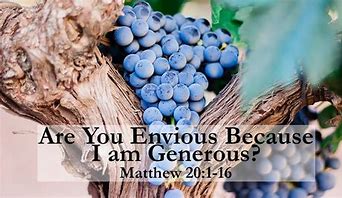 Mass Schedule
Saturdays
5:00pm – English Vigil Mass
Sundays
8:00am – English Mass
10:00am – English Mass
12:30pm – Spanish Mass
Weekdays
Tue-Fri: 12:15pm – English Mass
Wed: 6:30pm – Spanish Mass
Adoration
1st Saturday of the Month from
4:00-4:45 pm; Fridays from 11:00 am
to 3:00 pm, followed by Divine Mercy Chaplet
Twenty-fifth Sunday in Ordinary Time
GOSPEL
Jesus told his disciples this parable:
"The kingdom of heaven is like a landowner
who went out at dawn to hire laborers for his vineyard.
After agreeing with them for the usual daily wage,
he sent them into his vineyard.
Going out about nine o'clock,
the landowner saw others standing idle in the marketplace,
and he said to them, 'You too go into my vineyard,
and I will give you what is just.'
So they went off.
And he went out again around noon,
and around three o'clock, and did likewise.
Going out about five o'clock,
the landowner found others standing around, and said to them,
'Why do you stand here idle all day?'
They answered, 'Because no one has hired us.'
He said to them, 'You too go into my vineyard.'
When it was evening the owner of the vineyard said to his foreman,
'Summon the laborers and give them their pay,
beginning with the last and ending with the first.'
When those who had started about five o'clock came,
each received the usual daily wage.
So when the first came, they thought that they would receive more,
but each of them also got the usual wage.
And on receiving it they grumbled against the landowner, saying,
'These last ones worked only one hour,
and you have made them equal to us,
who bore the day's burden and the heat.'
He said to one of them in reply,
'My friend, I am not cheating you.
Did you not agree with me for the usual daily wage?
Take what is yours and go.
What if I wish to give this last one the same as you?
Or am I not free to do as I wish with my own money?
Are you envious because I am generous?'
Thus, the last will be first, and the first will be last."
Current Events
---
STAND UP FOR LIFE

Silent Auction at Fall Festival

Get ready for this year's silent auction. Generous donations make up this year's fall treats. From food and lifestyle gift certificates to bountiful baskets, gadgets for fun and productivity, homemade treasures, and more. The hardest part will be what to choose first! For a small sample of offerings, please click on Silent Auction Flyer at the Weekly Bulletin link above.

UPDATED FALL FESTIVAL HELP LIST!

Only TWO MORE WEEKS until Festival! Everyone Can Help in Some Way!

Soft Drinks and Bottled Water. Wine for Wine Toss Game. Gift Certificates to restaurants, and entertainment venues and items from retailers for Silent Auction and medium to large baskets to display Silent Auction items. Prizes for Tombola: new items valued at more than $5 each, such as kitchen supplies, toys, decorative household items, tools, luxury personal care items, etc. $2.00 Raffle Tickets are available in narthex. Please take at least 1 envelope. Sign up in narthex to man one of the activities the day of festival. Attend the festival Saturday, October 7, 10 am. to 4 pm. to support your parish and the volunteers who worked hard to make our festival a success. If you are unable to volunteer or attend festival, consider a $100 family sponsorship.

Calling all Bakers! Baked goodies are needed for the bake sale at Fall Festival Saturday, Oct. 7th. If you like to bake and unable to help with the festival in any other way this is a perfect way to participate. Cookies, brownies, breads, cupcakes, scones, pies and cakes will all be appreciated. You may drop them off in Parish Hall Friday evening by 6:00 or Saturday morning by 9:00 A.M. In addition to the bake sale, cakes are needed for the cake walk, as well. But we do request no cakes that need to be refrigerated. These can be brought to the Parish Hall Friday evening by 6:00 PM or Saturday by 9:00 A M as well. Please label them for the cake walk.

Altar Servers for God

Join our great group of Altar Servers who assist Father Fabio at Mass! Participation in church as a server builds self-discipline, responsibility and humility. The only requirements: reception of First Holy Communion and a willingness to serve the Church!
The next training for current and new servers will be:


Sunday, October 8 at
2 pm in the Church.
Contact Mayela Urquiza
678-751-6606
for more information.

Can You Help With Babysitting?

NEEDED: One hour of your time!
We are in need of volunteers to help Mary Ruth Jones with babysitting children 3 and 4
year olds on two Wednesday evenings a month in the SOR building. Please contact Lisa Wade – lwade@stpaulcleveland.com or 706-878-8554 if you can help!

Words from Fabio

Reflection:

To understand today's gospel a little, you must go to the Palestine of the time of Jesus, where the working day began from sunrise, until when the first stars appeared. The day had the Greco-Roman
style, that is, twelve hours, in four parts, each part consisted of three hours: "la prima" (dawn), "la tertia" (9 am), "la sexta" (twelve o'clock), "la nona" (3 pm) and the end of the day was completed at 6 pm) according to the season. By the way, the Catholic Church took this same schedule as a reference to do the Liturgy of the Hours. This gospel shows us how God takes on the task of calling and inviting each one of us to come and work for Him; but the truth is that each one of us has the last word and that word is: accept or reject the invitation; accepting, it will take us to receive from God what we deserve for that yes, that we give.
This gospel should also lead us to carry out an examination of conscience, for how many times have we acted like the last workers to receive their salary, that is, being dissatisfied with God's behavior. Given this, I wonder and I ask you: if you and I were part of the last group that came to work, would we be complaining? The answer is obvious; so let's leave the Owner of this world do what he wants to do.

For more words from Fabio, and a story about a Columbian poor man who became wealthy in business and what he learned, please click on Weekly Bulletin link, then click on Bulletin Insert 9-24-23.

Welcome Missy Rodil!

Melissa (Missy) Rodil joins Saint Paul as the new Business Manager. Missy and her family
moved here in April and are loving their new community. Missy was previously the Director of the Miller-Ward Alumni House at Emory University; loves working in her garden and is a trained chef. Her sons attend Mt. Yonah Elementary and White Co. Middle School. Missy looks forward to getting to know our congregation.

Youth Ministry Fall Calendar

Youth Ministry in the Mountains have published their calendar with events for the remainder of the year. Click on Weekly Bulletin above, and then click Bulletin Insert 9-17-23. Scroll down through the insert to find the calendar. You can download to your computer or print! Teens are welcome to come out and join us for fun and spiritual enrichment.

Parish Council News

Want to know more about what's happening in our parish? A copy of our monthly meeting minutes can be obtained by sending Mel Vaillant, vaillantmel@gmail.com, your email address.
More Info
---
Confessions
Saturdays, 4:00pm or by appointment
---
Secure Online Giving
---
Daily Readings
---
Catholic Online
Catholic.net
Vatican
Archdiocese of Atlanta